Crete island Ferries Schedules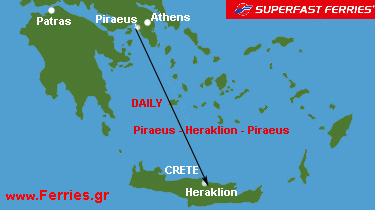 Piraeus (Athens) - Heraklion (Crete) v.v.
2016 - 2017
Timetables and tariffs are subject to variations without prior notice.
SUPERFAST FERRIES
BLUE STAR FERRIES
Blue Star Ferries - Superfast Ferries
Reservation Form with our company's assistance
Reservation Form Blue Star Ferries Main Page www.ferries.info @ Contact us!