2019 timetables and prices available !
Sea Jets >> Heraklion (Crete), Santorini, Ios, Naxos, Mykonos - Santorini one day from Heraklion - Rethymnon (Crete) -
Santorini - Rafina (Athens) Tinos, Mykonos, Paros, Piraeus (Athens) Milos, Folegandros, Syros, Santorini, Koufonissi Amorgos. -
Piraeus (Athens), Mykonos, Naxos, Santorini (Thira), Ios, Folegandros, Milos, Sifnos.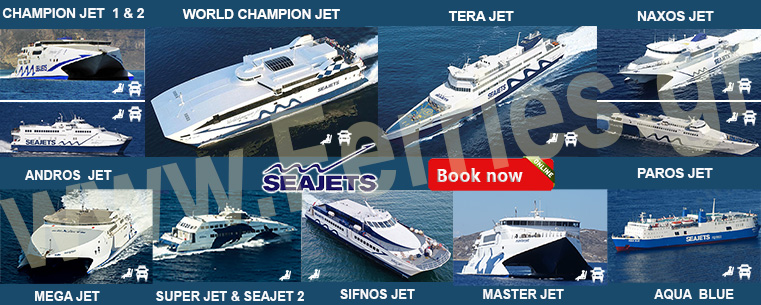 For Schedules, Fares, Availability and Reservation click here !!







Sea Jets
Reservation Form with our company's assistance
Piraeus (Athens), Tinos, Mykonos, Naxos, Santorini (Thira), Piraeus
from 23/03/ - 17/05/
&
22/10/ - 31/10/
Sea Jet 2

Blue Power
Piraeus (Athens), Serifos, Sifnos, Milos, Folegandros, Ios, Santorini (Thira),
Amorgos, Koufonissi, Naxos, Mykonos
from 27/04/ up to 14/10/
Super Jet

Sea Jet 2

Andros Jet
Piraeus (Athens), Paros, Ios, Santorini (Thira)
from

01

/0

6

/ up to 30/09/
Mykonos Jet
Rafina (Athens), Tinos, Mykonos,
Piraeus (Athens), Syros, Mykonos, Tinos,Rafina (Athens)
from 05/04/ up to 10/04/
Champion Jet 1
Rafina (Athens), Tinos, Mykonos, Paros, Naxos, Ios, Santorini (Thira)
from 01/06/ up to 30/09/
Tera Jet

Super Jet

Champion Jet 2

Naxos Jet
Syros, Anafi, Santorini (Thira), Thirassia, Ios, Sikinos, Folegandros, Naxos, Paros, Kythnos, Kea, Lavrio (Athens), Mykonos, Donoussa, Amorgos (Aegiali),
Amorgos (Katapola), Koufonissi, Schinoussa, Iraklia
from 01/11/2018 up to 31/10/2019
Andros Jet

Aqua Jewel