2020 timetables and prices available!



The greatest at sea welcomes you to the World Wide Web
and promises you a fascinating trip.

BOOK ON LINE Get your tickets NOW









Camping on board is valid from 1st April to 31st October
Superfast Ferries reintroduce Camping on-board. Now you can spend the entire crossing in the comfort of your own camper/caravan
while taking advantage of our on board showers, WCs and 220- volt power outlets. All for the price of a deck and vehicle fare.
20% EARLY BOOKING

Valid for reservations and ticket issuance until 29th February 2020.
Valid for one way or round trip travel until 31st December 2020.
Ancona: Discount applies on all individual passenger fares, on fares for cars, cars with roof box, vehicles up to 6 meters long & 2 meters high, trailers up to 2,50 meters long & 2 meters high and on fares for motorcycles. The discount is not applicable to reservations with all other vehicle categories as well as to Camping on Board reservations.
Bari & Venice: Discount applies on all individual passenger and vehicle fares and to Camping on Board reservations.
Once ticket has been issued, reservation may be changed but not cancelled. If reservation is changed after 29th February 2020, difference between early booking and brochure fares has to be paid – difference is calculated on the affected leg of a round trip ticket.
Tickets may be issued with an open return (outbound leg with early booking discount, inbound leg with brochure return fares – no further early booking discount).
Discount is given on top of all other discounts mentioned below (apart from the child discount).
Reservation Form
with our company's assistance
ANEK LINES
Offers and Discounts for International Lines
.
SUPERSAVER!!
issue your round trip ticket at least 45 days before departure
and save up to 5% !!.
.
FAMILY OFFER
issue your round trip tickets
and save up to 10% !!.
.
AIRSEAT & DECK OFFER
issue your round trip tickets
and save
up to 20% !!
.
.
YOUTH DISCOUNT
Save up to 20%

for youths up to 25 years old travelling in all accommodation categories.
.
SUPERSENIOR

All passengers 60 and over are entitled to a 10% discount
.
FOR BLUE STAR FERRIES TICKETS
Save up to 10%

on Domestic lines' tickets ( for passengers and vehicles) provided that international SUPERFAST FERRIES tickets
and domestic BLUE STAR FERRIES tickets are issued simultaneously.
The offer is valid all year round.
.4 persons 1 Free
Family Offer for Piraeus - Heraklion - Piraeus route: 4 persons 1 Free

Family discount is offered for 4-berth cabins.
Valid only for families travelling with 4 members. In this case, one member travels completely free of charge.
Condition: 2 tickets out of the 4 must be issued at full fare.
Not valid for daily routes and on the condition that at least two tickets are full-priced and all four people travel. The free ticket is provided to the ticket of the lowest fare.
Partial cancellation of tickets is not allowed.
Make your reservation Online or by Fax. All major credit cards accepted.


ANEKSUPERFAST FERRIES
BOOK ON LINE Get your tickets NOW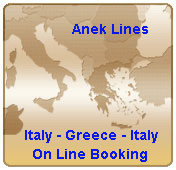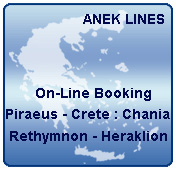 Italy Greece Italy & Piraeus Crete Piraeus
Reservation Form with our company's assistance

MEMBER
OF HATTA


Shipping & Travel Agency
5, 25th AUGUST Str.
71202 HERAKLION - CRETE - GREECE
TEL: (+30) 2810 346185 - (+30) 2810 330598
FAX: (+30) 2810 346208

www.Ferries.info
anek@ferries.info


G.N.T.O
Permit No. 10 39 Ε 60 61 00522 00